I'm very lucky to have this as my local farmers market. I try to get there a couple of times a year, especially in the growing seasons (we're still in winter unfortunately ... only a couple more days to go!). Every time I go, I don't plan to buy anything ... and come home with lots of tasty things! The only bad part about a the farmers market is finding something delicious one month and going back the next month for it – only to find the stall has gone or the produce out of season!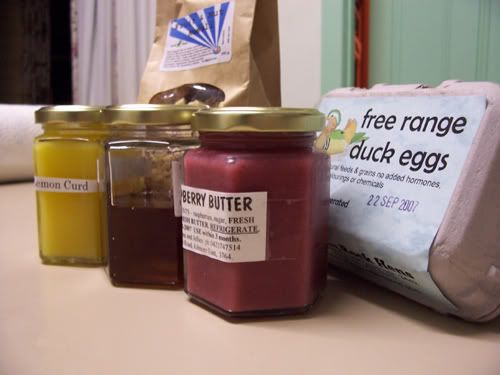 A couple of things I bought this month:
Whole Wheat Croissant (Red Beard Bakery – Trentham): nice, but needed more butter!
Raspberry Butter and Lemon Curd: one stall had a variety of butters, tasting them all I couldn't resist the raspberry one, and bought the lemon at another stall ... whilst I intend to use these in some cooking, I highly suspect that they'll be eaten by the spoonful straight from the jar!
Eggplant something or other (can't remember the name!): a delicious mix that I'm going to spread on sandwiches for extra taste
Fruit Muesli: I love muesli and it often is my "dessert" at night. My favourite one comes from the Irrewarra Sourdough Bakery - the one from the farmers market was quite nice - but not that toasted honey flavour I love in the Irrewarra version.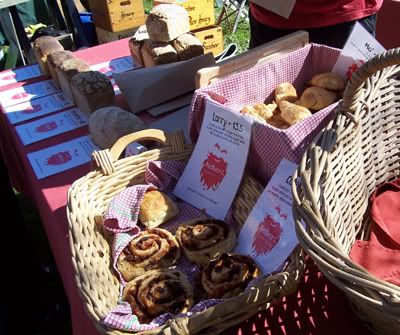 Duck eggs: I used to have a lovely supply of duck eggs, but unfortunately I can't get them anymore ... once I've stopped my current diet (yes, with all this baking I'm actually dieting!) I'm planning on buying some ducks and hopefully getting my own eggs ... I have a lovely duck pond from a previous owner of my property ... just need a duck house!! These eggs are destined for a custard I think!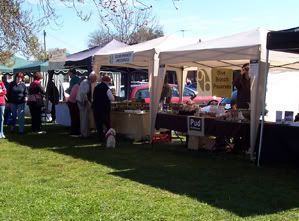 My friend bought some lovely olive oil from Lovers' Lane Olives – tasted delicious, a pan au chocolate from the Red Beard Bakery (quite nice, but I've obviously been spoilt by non-whole wheat flour and it just doesn't quite meet my expectations for a croissant/Danish), a frittata for lunch and some messmate honey (which she generously gave some to me).

The best part of course, is going home and unpacking all the spoils and making a delicious lunch with fresh produce.